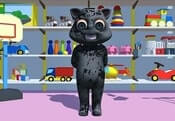 Talking Joe – Kick Evil Cat FREE GAME · PLAY ONLINE
Today, players have an amazing opportunity and it's a sin not to take advantage of it! You can take care of your pet and do whatever he wants. The rules should be familiar to you, so there will be no difficulty. Feed him, put him to bed and more in Talking Joe – Kick Evil Cat!
But the main character has one ability that can add a sense of fear. He can suddenly become very angry and scare you. Explore different locations with him and even take part in mini challenges! It is better not to bring him to a state of aggression!