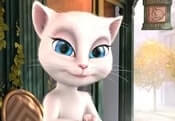 Talking Angela Horror FREE GAME · PLAY ONLINE
This is another challenge about a cat that can talk. She loves adventure and is always happy to spend time with you. Players must monitor her health and do whatever she wants. With the help of indicators, you can find out how hungry she is or wants to go for a walk.
In addition, participants will be able to have fun and take part in mini entertainment. But in Talking Angela Horror, the main character has a secret! If something goes wrong, she will become very angry and can scare you. Can you handle it?