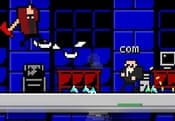 Superfighters FREE GAME · PLAY ONLINE
Are you ready to demonstrate your power? In this game, players will have to get into the ring with their opponents. They are all strong so you have to try hard to win. There are many opportunities that will please anyone.
Controls will not cause any questions or additional worries. Use the arrow keys to move and other buttons to use weapons. Throw a grenade straight at the enemy to do the most damage! Also discover other abilities that will help you stay in the black. It's a process that will be addictive!