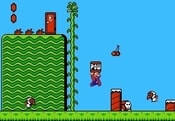 Super Mario Bros 2 FREE GAME · PLAY ONLINE
The merry plumber is as adventurous as ever! This time an evil dragon has stolen his beloved. He put her in a cage in a high tower and won't let her go. The main character along with his brothers decide to save the princess.
Start controlling one of the characters to complete the mission! Players will have to go to different locations where there will be obstacles waiting. Be dexterous and careful not to fall into a trap! Jump and climb to the heights to get to the goal! Keep an eye on the health bar and keep it up!