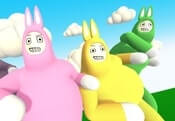 Super Bunny Man FREE GAME · PLAY ONLINE
This is the best challenge in recent times where you can have fun! In Super Bunny Man, the main character is a rodent fan. The man even puts on a hare costume and is ready to jump across the fields. Players will have to take control of him and lead him to the finish line.
This is a whole strip of obstacles where you need to be very careful. There are a lot of traps that need to be cleverly avoided. Collect carrots or other items to complete levels. You can also invite your friends to go the distance together!