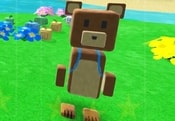 Super Bear Adventure FREE GAME · PLAY ONLINE
In this game, players have to go on an exciting journey. This is a square world that has many secrets. The main character is an animal that will follow all your instructions. You have to direct it to the right side and have fun.
Find out who lives in this kingdom and learn all the interesting facts! For participants, six levels are available that will allow you to chat with other inhabitants. In addition, you can save your friends from opponents. Fight them and you will prove to everyone that you are a leader!