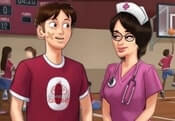 Summertime Saga 2023 FREE GAME · PLAY ONLINE
This is a new version of the story about a student guy. His fate was not easy, but he did not give up! After the death of his father, much has changed in his life, but he still remains a happy teenager. In Summertime Saga 2023, players will have to make decisions instead of him.
They have to be perfect to have fun! Despite the fact that the main character must go to college, he will not forget about parties. Chat with other characters and make interesting relationships with them! Increase your charisma!