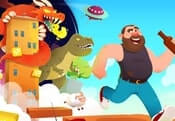 Suicide Guy The Lost Dreams FREE GAME · PLAY ONLINE
This is a story about a young man who wakes up in a strange world. This does not happen in reality, so you need to act intuitively. Players will never know what awaits them next, so don't relax! Go to bright and stupid locations where there will be a huge number of exciting tasks!
In Suicide Guy The Lost Dreams you get to explore more than just that! But fans will also try to solve all the puzzles that will arise along the way! Will you be able to complete all the levels and get out of here? Good luck!