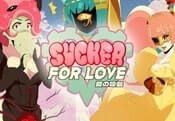 Sucker for Love: First Date FREE GAME · PLAY ONLINE
The protagonist of Sucker for Love: First Date is obsessed with various rituals. The last time he decided to do another one and you'll be watching. Suddenly, a beautiful young lady appeared, which immediately aroused the interest of the hero.
In order to kiss her you need to read the spell from the book. Will it be that easy? In this challenge, players are waiting for three chapters of the story. Experience a variety of emotions and be surprised by the ending! If you think it will be scary, then it won't.