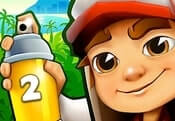 Subway Surfers 2 FREE GAME · PLAY ONLINE
This is an exciting continuation of the famous challenge! In Subway Surfers 2, the hero will again draw graffiti. As you remember, the policeman does not like this occupation at all. He wants to catch the hero and punish him, but you will help him escape.
The player will have to be fast and agile so as not to fall into the hands of the guard. Overcome the path that goes across the road where there are many trains. You have to jump over them, as well as other obstacles. Collect boosters and buy upgrades!