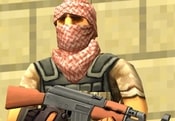 StrikeBox: Sandbox&Shooter FREE GAME · PLAY ONLINE
This challenge is great for those who love battles. There are no restrictions and the rules are almost invisible. In StrikeBox: Sandbox&Shooter, players must build various structures. For example, you have the ability to create trenches, buildings, bases, shelters, and more.
All these will be the main targets of the opponents, so be always on the alert to protect. Go to a cool location and start an attack in which you need to win! There is also a mode where you can team up with friends.