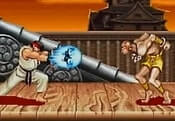 Street Fighter 2 FREE GAME · PLAY ONLINE
In Street Fighter 2, players will fight cool battles! Get into the ring to face your opponent. Here you need to be very agile and quick to react. Strike with your hands, feet and head! Learn new techniques that can deal decisive damage to the enemy.
But don't forget that they are also fierce and can fight back. Dare to dodge to avoid losing your health! Each level will get harder, so you'll have to do your best! Gain points and experience, and then swap it for skins! Become a professional in this sport!