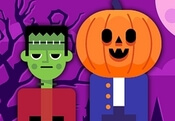 Spooky Tripeaks FREE GAME · PLAY ONLINE
This challenge is perfect for the Helloween atmosphere. If you didn't know, monsters also love card games. Here zombies, mummies and other evil spirits want to show you a unique deck. In the pictures, players will be able to notice the main attributes of the holiday.
Such as spiders, bats, pumpkins, and more. In Spooky Tripeaks, you have to collect all the cartons in ascending or descending order. The main task is to completely get rid of all the cards. There are also wilds and other bonuses!