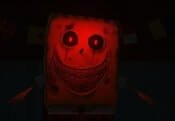 Spongebob Slaughterpants FREE GAME · PLAY ONLINE
Bikini Bottom is a beautiful underwater city with cheerful inhabitants. The main character here is different from the original version and it can be scary. His appearance has become like a wild monster who wants to kill everyone.
Players will go to a spooky location and spend some time there. Believe me it's better not to meet Spongebob Slaughterpants! No one knows exactly what he can do with you and what traps he has prepared for you. Be attentive and always on the alert to avoid punishment and stay alive!