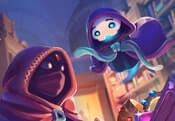 Spirited Thief FREE GAME · PLAY ONLINE
In this game, players will control two heroes at once. These are best friends who can not cope without each other. Their main task is to commit major robberies. Today you will go to the scene and help them. Visit banks and museums and collect valuable items!
But be careful because there are a huge number of opponents who want to interfere with the guys. All vaults are well guarded, so fans should think of a good strategy! Perhaps you will be able to find out about a secret passage that will lead to the goal!