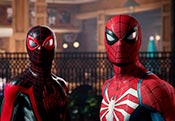 Spider Man 2 FREE GAME · PLAY ONLINE
This guy continues his dangerous adventures! He has already saved humanity enough, but he is not going to stop there. In Spider Man 2, players learn a little more about his life. Go to a city where there is a huge amount of crime!
You have to fight fierce opponents and use your super powers! Jump on walls using sticky and durable webs! Don't forget that you can combine skills to get the required process faster! There are 19 levels in total, each of which will bring new experiences and emotions!