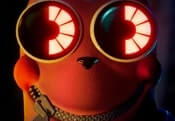 Sparky Marky FREE GAME · PLAY ONLINE
If you love to tickle your nerves, then welcome to this game! This time, players will have to go to the camp for children and explore it. The founders did not do very good things and left behind a lot of dark secrets. Now this place is considered abandoned and they say that a monster lives here.
You have to visit this building and find out the whole truth about it! Explore long corridors and always be on the lookout! Collect the necessary gadgets and use them to achieve the desired result. With the help of hints, you will be able to complete this mission! In Sparky Marky, you need to be quiet so as not to draw the creature's attention.