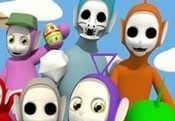 Slendytubbies World FREE GAME · PLAY ONLINE
In Slendytubbies World, players will meet a cute character. His goal is to visit a completely unknown universe. You have to help him explore the territory and be very careful. In addition to you, there are other participants here with whom you can chat.
Share information, finds and more to increase interest in the process. The music will be creepy, which will make you nervous and get some adrenaline. This process will probably reveal your hidden talents, so don't miss this chance!