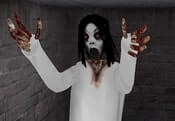 Slendrina: The Cellar FREE GAME · PLAY ONLINE
Why do you need these old books? Maybe it's just a matter of controversy? And you want to prove that you are fearless? It no longer matters when the door to the dungeon closed behind you.
The girl who was killed many years ago still wants revenge. And her soul goes hunting as soon as she hears the sound of footsteps. If you have the courage to go further – find all 8 books.
They will become your key to the door outside. Darkness and terrible cold do their job. They will make you feel chill on your skin even through the screen.