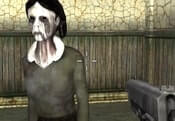 Slendrina Must Die FREE GAME · PLAY ONLINE
Let's believe that you were lucky enough. You got a chance to learn a secret. You even managed to collect 8 books from the previous version. But the exit is still closed. What could go wrong?
Why are you still locked in the dungeon. You will find answers to the previous chapter and other questions. Slendrina Must Die is a unison of fear and adventures. You are waiting for new terrible battles for your life.
New pursuers. And a whole new feeling of fear and hopelessness. Are you ready to remember the enveloping cold and terrifying grave fear again?