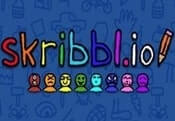 Skribbl io FREE GAME · PLAY ONLINE
This is a fascinating game in which you have to try to find out the words drawn by other players. Here you will compete against other participants and try to show off your talent as best you can. When you give the right answer, your name will glow green on the leaderboard to the left.
Get experience, because the one who gets the most points wins! As a hint, you can see how many letters are in the correct word in the panel above. You can rate other players' drawings by giving them a thumbs up. Get some feedback!