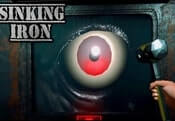 Sinking Iron FREE GAME · PLAY ONLINE
Are you ready to go down to a great depth where you don't know what to expect? In this game, players are waiting for just such a task, so show your courage! There will be many different dangerous things that need to be dealt with.
In addition, players must monitor the situation inside and so that flooding does not happen. If this happens, the process will instantly end in defeat. In addition, you need to respond to sound signals so as not to get lost. Perhaps a terrible monster lives here and other secrets!