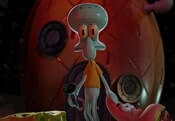 Sinister Squidward FREE GAME · PLAY ONLINE
One of the main characters who lives in Bikini Bottom has changed a lot. Today, players will visit the octopus mansion and uncover all its secrets! In this game, you can feel the gloomy atmosphere that will give you goosebumps.
You will control a very small girl who needs to get to the goal. All items in the house will seem incredibly huge and therefore you need to learn how to use them. Simple control will allow you to move around the entire territory without difficulty. Learn about everything!