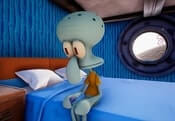 Sinister Squidward Mobile FREE GAME · PLAY ONLINE
The octopus resides in Bikini Bottom and is one of the viewers' favorite characters. In this game, players will visit his hideout to learn all the secrets about him. You have to manage a small girl and pass all the tests.
The items that are in the mansion seem huge and so you need to find a way to use them. The atmosphere is terrible and the tension will increase every second. Will you manage your own emotions? In addition, you have to solve puzzles and find clues to successfully complete the mission.