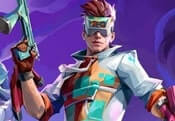 SIGMAX FREE GAME · PLAY ONLINE
SIGMAX is perfect for those who love survival missions. Here, players will take part in severe trials and fight for their own lives. All battles will take place in 4v4 style, so invite your friends! Or you can do it with random members or bots.
It all starts with the fact that you land on the field with a parachute. A huge map will help you move to any of the locations and engage in powerful fights! Can you lead your team to victory and become the leader? Get better every time to eventually become a leader!