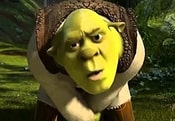 Shrek In The Woods FREE GAME · PLAY ONLINE
In this game you will see the green character from the other side. He was remembered by everyone as a benevolent and cheerful creature. He and his family went on vacation to rest and gain energy. But suddenly all the members died in a mysterious way.
Now only he and his best friend, the donkey, are left. The hero seems to have gone crazy and wants to catch the players. His main task is to kidnap you, and yours is to escape! Explore locations with a dark atmosphere and try to survive! Can you handle it?