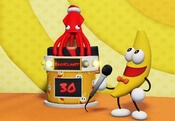 Shovelware's Brain Game FREE GAME · PLAY ONLINE
This is another version of the popular game based on Roblox. Here players will take part in a quiz! Do you think you will be able to answer all the tasks and win? Take part in several rounds and prove to everyone that you are a master in any business!
Participants have to choose one of three categories and make the right decision. One of the four answers is correct and will bring 10 points. Here you need to react quickly to get ahead of everyone and get the main prize! Demonstrate your erudition!