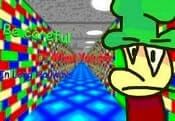 Scrimblo's Funny School of Joking Demo FREE GAME · PLAY ONLINE
In this game, players will meet the popular teacher again! Even though the graphics are bright here, it won't be fun at all. The enemy is very strict and expects only the right answers from you. Do not make mistakes under any circumstances, because the enemy will chase you!
It will not be so easy to escape from him, because his assistants are everywhere. Collect books with notes and solve all the puzzles! The tasks will require great care and logical thinking. Will you be able to complete all the missions?