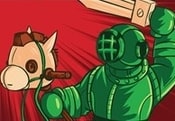 Screencheat FREE GAME · PLAY ONLINE
This is a great shooter where everyone can have a great time. Here, players have to control characters that are invisible. And this complicates the situation very much because it is impossible to know the exact location of the competitors.
You have to make shots in an approximate direction and even at random! Trust your intuition and find out how well it is developed in you. Once you realize that you are shooting in the right direction, then keep doing it until the end! Don't forget to upgrade your weapon!