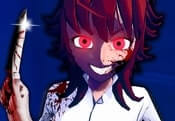 Saiko No Sutoka FREE GAME · PLAY ONLINE
In this game you have to escape from a crazy girl! She suffers from mental illness and has two personalities. In the first, she is very kind, affectionate and tries to be next to the guy. It's so tiring that you want to scream.
But the hero must be submissive and obedient so as not to attract problems. In the second state, she develops aggression and anger, so it is best not to provoke her further. The player needs not to face her face to face and survive! Be careful, because there are a huge number of traps!