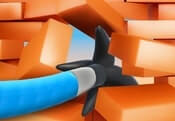 Rope and Demolish FREE GAME · PLAY ONLINE
Breaking is not building, right? In this game, players will destroy various structures. Each of them has great places that will allow you to achieve your goal. All levels are unique and offer special tasks. Fans will have to get used to the missions a little to get amazing results!
Use a cable that is made of durable material and start the process! Wrap this around certain areas of buildings and knock it down with a huge sound! It's addictive, but be prepared for the challenge! Good luck!