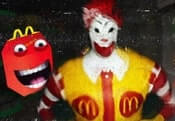 Ronald Mcdonald Horror FREE GAME · PLAY ONLINE
Often the favorites of the public turn into maniacs and murderers. You are constantly trying to convince your brain that it could not do this to you. But the bitter truth is that sometimes unexpected incidents happen. Ronald Mcdonald Horror appeared before us in the form of a race to the bottom.
Advertising burgers has become a real escape from the massacre and nightmare. And your good old friend is now becoming a predator. Accordingly, you fall into the role of a victim in this competition. Will you be able to tame the unhealthy behavior of this curly-haired old man?