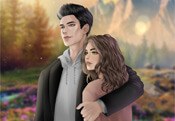 Romance Club FREE GAME · PLAY ONLINE
The plot is about a group of high school girls overcoming difficulties in love, friendship, and growing up. Players must make choices to guide the story and build relationships with the heroes. There are various endings, as well as a variety of customization options.
Romance Club is a place where it's up to you! Participants can compete on leaderboards and even join clubs to earn special rewards. With this entertainment, you can explore the joys and heartaches of teenage life.