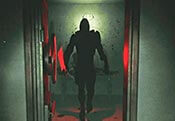 ROJO FREE GAME · PLAY ONLINE
In ROJO, players will go in search of a friend. In order to understand where he disappeared, you have to visit his apartment. Looks like something weird is going on here! Carefully inspect all the rooms and find the necessary information!
Clues can be anywhere, so don't miss anything! You won't have any weapons except a flashlight that doesn't work well. A creature in the shadows is watching you, so be on your guard! Dozens of puzzles and pictures can confuse you. For this reason, be reasonable!