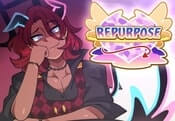 Repurpose FREE GAME · PLAY ONLINE
Several people have died and one of them is you! They weren't sent to heaven or hell because the higher powers didn't decide. Players will open their eyes and realize that they are in a huge garden. Now the participants must go through a lot of tests to find out their fate.
In Repurpose, almost every step you take will affect the future process. For this reason, it is up to you whether you go deep underground or high in the sky! There will be some scenes here that can make you nervous.