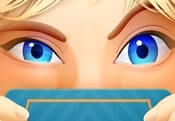 Psych FREE GAME · PLAY ONLINE
This story is about a young guy who had an accident. After this incident, he lost his memory and is trying to restore it. In Psych, players will venture into a creepy world where secrets are literally at every turn. You have to explore the entire territory to find out the truth.
It's night outside and that means there will be a huge number of dangers here. They lie in wait at every turn, so be on your guard! The plot is amazing as it will quietly lead fans to the end of the chapter. Will you be able to reach the end?