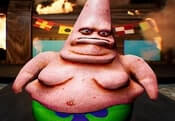 Potrick Snap 2 FREE GAME · PLAY ONLINE
Finally, the continuation of the previous part is out! You are already quite familiar with this creepy character. Visit the haunted house and explore all of its spookiest corners. The main task of the users is to explore all the rooms in the mansion and test their courage!
Potrick Snap 2 will force everyone to face their own fears. Surprise is the main attribute in this process, so always be on the lookout. Are you ready for the supernatural surprises that will happen on an ongoing basis?