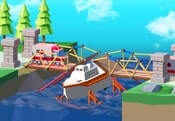 Poly Bridge 2 FREE GAME · PLAY ONLINE
This is an advanced physics based puzzle. In this game, players are encouraged to design and build bridges so that cars can cross rivers and canyons safely. You will need to use your logic, concentration and engineering skills.
This will help to ideally create structures that can withstand any weight. There will be a huge number of missions with unique requirements. Can you build something that can support multiple trucks and even boats? Compete with other participants for the best score!