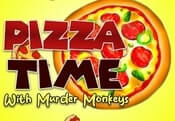 Pizza Time With Murder Monkeys FREE GAME · PLAY ONLINE
The most feared hunter is waiting for you where you enjoy. You come to the cafe to enjoy a delicious piece of pepperoni. Instead, you are attacked by a serial maniac. He thought out his plan of action well. Therefore, you are not in a very advantageous position.
After all, it's hard to immediately come up with a plan to escape from a building you don't know. But this story only becomes more in demand. New puzzles in the game make it interesting and attract more users. Who will be able to defeat the infernal machine that has settled here?