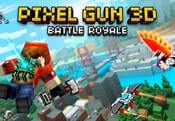 Pixel Gun 3D – Battle Royale FREE GAME · PLAY ONLINE
This is a dynamic shooting that will immerse you in the world of blocky characters and the surrounding nature! You can find a variety of weapons and heroes to fight. Each with their own individual abilities, skills and strengths!
Compete against other users or friends in exciting battle matches! Includes a number of modes that allow participants to team up and fight waves of enemies. Deliver powerful blows and learn new ones to become a master! It is important to react quickly!