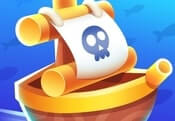 PirateCaptain FREE GAME · PLAY ONLINE
Today, the players go on a long sea voyage! In this game there will be many unusual moments that will remain in memory forever. Participants will be able to draw their own maps on which to go on adventures.
You will also have the opportunity to meet the monsters that live in the depths and drive them out. In addition, this challenge has a huge amount of treasures. Can you handle all the challenges? Here, almost everywhere there will be danger and therefore each of you must always be on the alert.