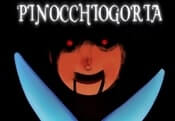 Pinocchiogoria FREE GAME · PLAY ONLINE
The plot of this game tells about a man who is expecting a son. His wife dies in childbirth, but the twins survive. In the meantime, the boy also passed away and only the girl remained. The father could not calm down for a long time and got a mental disorder.
He created a puppet of a guy who reminded him of bright feelings. After 30 years, an adult daughter ran into problems because of this doll. It turned out to be alive and now you have to get out of the traps. Even the bathroom can't be safe!