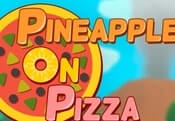 Pineapple On Pizza FREE GAME · PLAY ONLINE
Pineapple On Pizza takes you to the island! Tanned little men in skirts made of palm leaves walk everywhere here. They are constantly dancing and it can not but rejoice. Why do you think they are so funny?
Many players consider this challenge strange and incomprehensible, and there are reasons for this. But real fans will catch this subtle message and enjoy the whole process. The passage will take about 5-10 minutes, but during this time you will get a lot of positive emotions and impressions.