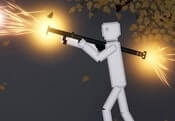 People Playground 2 FREE GAME · PLAY ONLINE
This is a new version of the popular challenge where you can do whatever you want. In People Playground 2 you have a classy opportunity to make experiments that cannot be done in real life. Here you can see the open area where your hero will be.
Create various structures and fulfill your old dreams! In addition, you can destroy them in all sorts of ways. Shoot other heroes, set fire or use unusual tools. Players can even start a war and test their strategic skills. Are you ready to create insanity?