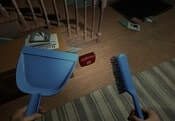 Paranormal Cleanup FREE GAME · PLAY ONLINE
Everyone loves when their house is clean and dust-free. In this game you will work in a company that does just that. Every day you are called to a different apartment to take out the garbage. This is another time when you leave for someone else's house.
But unfortunately, it will be an unusual change! Today the player will be in a mansion full of ghosts. Will you be able to avoid them? Do everything quickly and carefully so as not to fall into their traps! One wrong move and you'll be here forever!