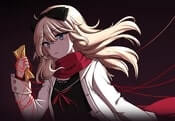 Paper Lily – Chapter 1 FREE GAME · PLAY ONLINE
This is a sequel of the well-known prologue, but if you are not in the know, then this is not scary. The plot of Paper Lily – Chapter 1 tells about a little girl. Recently, something terrible happened that made the baby leave her own body.
She can't think about other things and it really gets in the way of her life. The young lady has stopped going to school and has not left the house for several weeks. This process has a horror genre, so get ready for the tension! Solve puzzles, fight opponents and more!