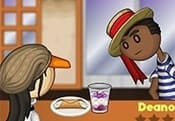 Papa's Mocharia FREE GAME · PLAY ONLINE
The most famous businessman opens another cafe in the city. He started hiring staff and you gladly accepted one of the positions. Your responsibilities include taking orders from guests and fulfilling them. The process is specialized in making hot drinks, so learn all the recipes!
Be careful not to confuse anything and fulfill the wishes of customers! Raise your rating, earn profit and get a tip! Over time, sweets will appear in the game, for example, croissants, pies and more.