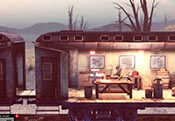 Pandemic Train FREE GAME · PLAY ONLINE
Events of this game take place in the 20th century, when disaster struck the world. In just 24 hours, the virus killed almost the entire population of the planet. There are very few survivors, but you are one of them. The last one who can solve the main problem is the main character.
Go on a creepy journey on a locomotive and find the medicine you need! There will be various difficulties along the way, so find a way out of them! This process requires concentration! Don't get into a fight with criminal gangs!