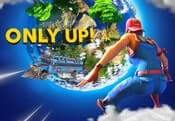 ONLY UP 2 FREE GAME · PLAY ONLINE
Get ready for a splendid entertainment that will test your capabilities and accuracy! Jump over a huge number of barriers, trying to reach the highest possible height! The game features many exciting missions with increasing difficulty, so beginners can try it too.
As you progress, you will meet unique and creative traps that require quick reactions and nimble movements. Keep your focus and time on point to complete each round and set new records! Take the initiative in your own hands!