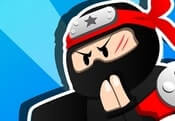 Ninja Hands 2 FREE GAME · PLAY ONLINE
These guys are professionals in their field, so check it out! Today they received a new task and went to the location. Help them cope with this and get a well-deserved victory! Players will make the right combinations to destroy the enemies.
Jump, run and more to get the desired result! Learn tricks you haven't mastered yet and punish anyone who misbehaves! In the game you need to use your mind in order to create cool spells. Can you complete all the missions? Difficulties on the way will arise more and more!